18 great bike rides in the Narooma - Tilba - Bermagui area of the New South Wales Far South Coast

Welcome to Cycling Narooma
The Narooma area provides the perfect location for some of the best bike rides, cycling holidays and cycle touring on the South Coast of New South Wales and the South East of Australia.
Whether you are a local cyclist, or are planning a weekend of bike riding or a cycling holiday in the area, there will be something for you on these pages.
Cycling Narooma provides details of 18 great bike rides in the Narooma, Tilba, Bermagui and Bodalla areas on the South Coast of New South Wales. They range from short, easy rides that are suitable for all the family, to half-day and full-day rides through some of the most magnificent coastal country one could find in the south-east corner of Australia. They cater for all tastes and all levels of fitness. We have even included a couple of challenging rides for the fit and enthusiastic riders.
We have grouped the rides under the main centres of Narooma, Tilba, Bermagui and Bodalla. There are seven rides around Narooma, two that start at Bodalla just a few kilometres north of Narooma, four rides around Tilba, and five around Bermagui.
The rides we have selected for you will take you to spectacular headlands, a lake or two to view waterbirds, to a National Trust village, along the quiet roads and tracks of State forests and national parks where you can enjoy the calls of lyrebirds and bellbirds. There are quiet rides through the countryside. On other rides, you can ride to a quiet headland and watch the whales go by (between September and November each year).
Most of the rides are along formed forest roads, or unsealed council roads. You will definitely need a mountain bike for most of these rides.
Maps
Each ride description has a mud map that you can download - they are in PDF format and will print out on one page each. But a mud map is never a substitute for a good map. We recommend Craigie's Visitors Map - Narooma and District because it is the most accurate and detailed map of this area. Another excellent map of the area is the South Coast Forest Map, published by State Forests of NSW. These can be purchased from the Narooma Visitors Centre, and from newsagents.
Visitor Information Centres
There are three visitor information centres that can answer all your questions and help you with maps and other information you might need.
The weather
The local residents seldom complain about the weather. The climate is mild, even in winter, and the summers are seldom excessively hot. In summer, temperatures range from 17 degrees to 27 degrees, while wintertime temperatures range from 8 to 19 degrees. Spring and autumn are ideal seasons for cycling - they are usually mild, and the weather stable apart from the chance of thunderstorms late in the day, usually during November and December.
No wonder locals consider this to be an ideal area for all-year-round cycling!
But we could talk cycling all day long. Bring your bikes. Bring your friends. Come and see for yourself what this area has to offer. Remember, you won't see everything in a day or even a weekend. There are just too many interesting and enjoyable rides. Allow plenty of time to see and to experience the area - there is just so much to do, so many places to see.
For visitors
And where is Narooma?
It's that beaut little town on the south coast of New South Wales. It's about five hours drive south of Sydney, nine hours from Melbourne, and less than three hours from Canberra.
For interstate and overseas visitors to the Narooma area, we have arranged for cycle-friendly accommodation providers in the area who will meet your expectations. Each of the providers shown on the 'Links' page will deliver a level of service that will help make your cycling experience, and your cycling holiday, most memorable. There's a waterfront holiday park providing campsites and cabins; there're luxury townhouses at Bermagui; a motel right in the centre of Narooma; a B & B in the historic town of Central Tilba, as well as farm cabins.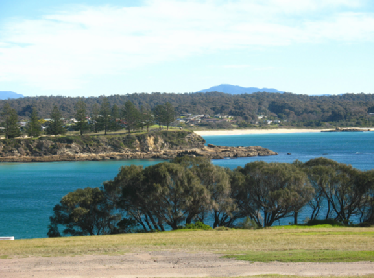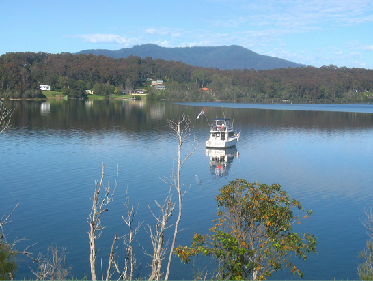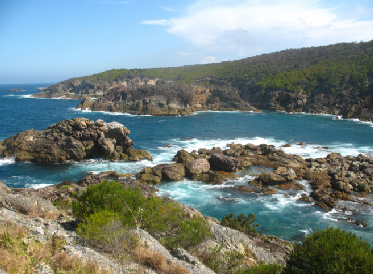 Yes, cycling really is like this ... at Tilba ... and Narooma ... and Bermagui.
Some rides will take you to the coast and National Parks.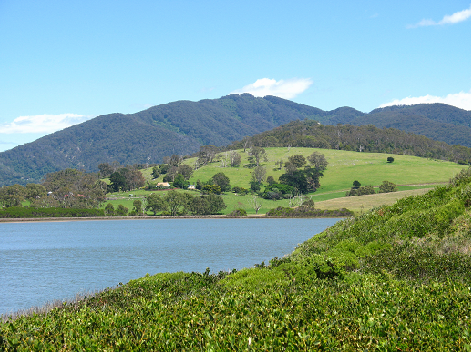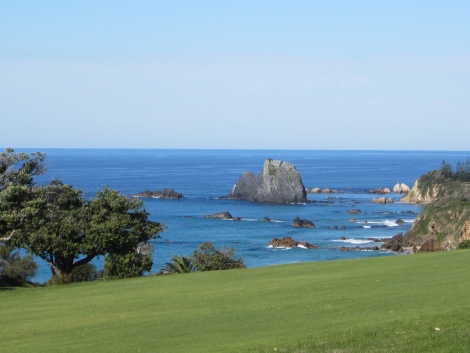 Riders who come to Cycle Indonesia through this website (Cycling Narooma) will receive a 10% discount, provided full trip payment is made 3 months before start of trip. Make sure you quote 'Cycling Narooma'.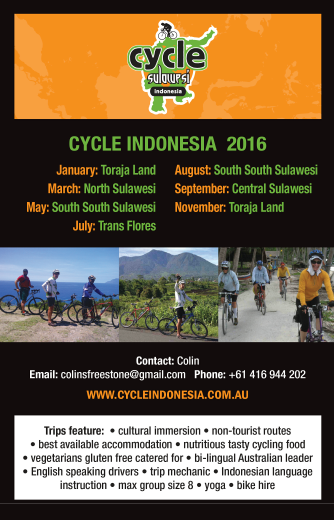 Cycling Indonesia at its best!
Further details about the Bicycle Retreats can be found here.
Click for trip details here. Please ask for our special discount.
If you are a cyclist in New South Wales, or if you intend visiting the State, or are cycle touring anywhere that will bring you into New South Wales, this concerns you. Please see our Issues page.
New! Two new exciting and challenging rides on offer through Bicycle Network Victoria. See below.
Challenging ride now on offer in October
The Peaks Challenge Cradle Mountain is being held on Sunday October 30th.
Full details of the events can be found here:
While riding alone has its benefits, undertaking the gruelling Peaks Challenges are certainly easier when riding with mates - especially when the going gets tough.
Motivation, support, much-needed distraction from the pain and accountability to a training schedule you promised you'd keep are just some of the benefits of tackling Peaks Challenges with friends. Plus, there's nothing like a bit of healthy competition to spur you up a climb or across the finish line.
On the journey to the event, you'll also get a shared appreciation of the commitment, endurance and effort it takes on and off the bike.
So to help you pitch your case to your mates, bunch ride or cycling club, we've pulled together an exclusive group offer to sweeten the deal.
The ​Powercor Tour de Depot
The ​Powercor Tour de Depot is returning to Victoria Park Lake in Shepparton on Sunday 23​ October, and we would love to see you and your riding group down at the starting line!
Powercor Tour de Depot​ is all about getting the community on their bikes to raise much­ needed funds for local charities. This cycling event includes a time trial, community participation ride and FREE community festival with rides, face painting, market stalls, a sausage sizzle, local entertainment and much more.
The time trial event will start at Victoria Park Lake at 10:00am, entry is $50 per person, which is donated directly to our charity partner, Very Special Kids​ ​.
The time trial ride distance is a 22 km route starting and finishing at Victoria Park Lake. The route will consist of two laps of a loop from Victoria Park Lake, using the Peter Ross­ Edwards Causeway to a turnaround point at Watts Road, and this year we will be offering a $500 cash prize for the fastest male and female, plus an overall second prize of $200 and a third prize of $100.
Entry into the time trial event also gives you and your family free entry into the community participation ride, commencing at 12.00pm. Please ensure to register your family's details when signing up.
Our charity partner ​Very Special Kids​ ​cares for children with life­ threatening conditions by providing a children's hospice and professional support services to families.
They are a children's charity that helps more than 950 families across Victoria, including 51 families in the Greater Shepparton area, who have a child with a life­-threatening condition with ongoing support from diagnosis all the way through bereavement. Sadly, almost all of the children they care for will not reach adulthood.
The free­ of­ charge family support services include counselling, advocacy, sibling support, bereavement support, networking and peer activities, trained family volunteers and specialist care at Very Special Kids Hospice.
Very Special Kids Hospice is the only children's hospice in Victoria and offer families access to planned and emergency respite, as well as end­ of­ life care. The hospice provides 24­ hour medical and nursing care in a warm and welcoming environment.
Very Special Kids aligns with Powercor's values of ​ ​succeeding together and ​being community minded.
To register for Powercor Tour de Depot, head to ​ ​www.tourdedepot.com.au
Once registered for the Tour de Depot you also have the opportunity to raise further funds for Very Special Kids.
Simply head to​ Tour de Depot to sign­up and start your​ fundraising campaign by sharing with family, friends, colleagues and the riding group. EVENT DETAILS
Timing
Time Trial: 10:00am
Community Participation Ride: 12:00pm
FREE Community Festival: 10:00am – 3:00pm


Site designed and maintained by Flairnet
Some GREAT cycling opportunities available here!
We also have the Around The Bay ride coming up on October 9th and it's not too late to register. To find out more here's a link detailing what's on offer here.
Also coming up later in the year (and particularly if you enjoy camping as well as bike riding) is the RACV Great Victoria Bike Ride. Details for that can be found on our site here.
Bicycle Retreats
The concept
Bicycle retreats or 'bub and spokes' routing arrangements are not new to the cycle world but they are new for Indonesia. The idea is to be accommodated in a central spot and make daily trips to different locations.
Riders will get to know the local people through daily interaction with them. For those who've been on long cycle tours where there's a routine of un - and re-packing this will mean a welcome release of energy for exploring the local culture, society and language through both formal classes and spontaneous learning including shopping in local markets for ingredients in preparation for cooking classes. There will be time for talks on particular aspects of the local culture, both during the rides and in non - ride time, and to develop friendships with locals.
Program locations
We've chosen two locations, namely Rantepao (in Toraja Land, Sulawesi) and Bajawa in Ngada regency Flores. Both places are centres of distinctive cultural regions, administrative centres and both are bustling business centres and both offer fabulous scenic cycling opportunities.