18 great bike rides in the Narooma - Tilba - Bermagui area of the New South Wales Far South Coast

Welcome to Cycling Narooma
The Narooma area provides the perfect location for some of the best bike rides, cycling holidays and cycle touring on the South Coast of New South Wales and the South East of Australia.
Whether you are a local cyclist, or are planning a weekend of bike riding or a cycling holiday in the area, there will be something for you on these pages.
Cycling Narooma provides details of 18 great bike rides in the Narooma, Tilba, Bermagui and Bodalla areas on the South Coast of New South Wales. They range from short, easy rides that are suitable for all the family, to half-day and full-day rides through some of the most magnificent coastal country one could find in the south-east corner of Australia. They cater for all tastes and all levels of fitness. We have even included a couple of challenging rides for the fit and enthusiastic riders.
We have grouped the rides under the main centres of Narooma, Tilba, Bermagui and Bodalla. There are seven rides around Narooma, two that start at Bodalla just a few kilometres north of Narooma, four rides around Tilba, and five around Bermagui.
The rides we have selected for you will take you to spectacular headlands, a lake or two to view waterbirds, to a National Trust village, along the quiet roads and tracks of State forests and national parks where you can enjoy the calls of lyrebirds and bellbirds. There are quiet rides through the countryside. On other rides, you can ride to a quiet headland and watch the whales go by (between September and November each year).
Most of the rides are along formed forest roads, or unsealed council roads. You will definitely need a mountain bike for most of these rides.
Maps
Each ride description has a mud map that you can download - they are in PDF format and will print out on one page each. But a mud map is never a substitute for a good map. We recommend Craigie's Visitors Map - Narooma and District because it is the most accurate and detailed map of this area. Another excellent map of the area is the South Coast Forest Map, published by State Forests of NSW. These can be purchased from the Narooma Visitors Centre, and from newsagents.
Visitor Information Centres
There are three visitor information centres that can answer all your questions and help you with maps and other information you might need.
The weather
The local residents seldom complain about the weather. The climate is mild, even in winter, and the summers are seldom excessively hot. In summer, temperatures range from 17 degrees to 27 degrees, while wintertime temperatures range from 8 to 19 degrees. Spring and autumn are ideal seasons for cycling - they are usually mild, and the weather stable apart from the chance of thunderstorms late in the day, usually during November and December.
No wonder locals consider this to be an ideal area for all-year-round cycling!
But we could talk cycling all day long. Bring your bikes. Bring your friends. Come and see for yourself what this area has to offer. Remember, you won't see everything in a day or even a weekend. There are just too many interesting and enjoyable rides. Allow plenty of time to see and to experience the area - there is just so much to do, so many places to see.
For visitors
And where is Narooma?
It's that beaut little town on the south coast of New South Wales. It's about five hours drive south of Sydney, nine hours from Melbourne, and less than three hours from Canberra.
For interstate and overseas visitors to the Narooma area, we have arranged for cycle-friendly accommodation providers in the area who will meet your expectations. Each of the providers shown on the 'Links' page will deliver a level of service that will help make your cycling experience, and your cycling holiday, most memorable. There's a waterfront holiday park providing campsites and cabins; there're luxury townhouses at Bermagui; a motel right in the centre of Narooma; a B & B in the historic town of Central Tilba, as well as farm cabins.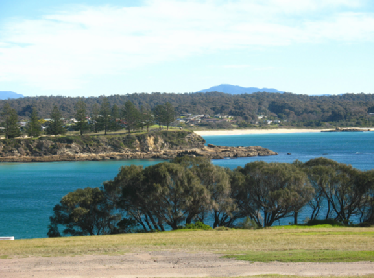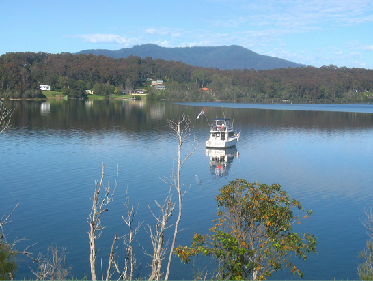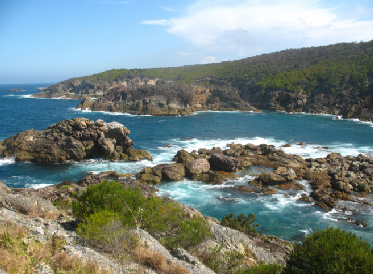 Yes, cycling really is like this ... at Tilba ... and Narooma ... and Bermagui.
Some rides will take you to the coast and National Parks.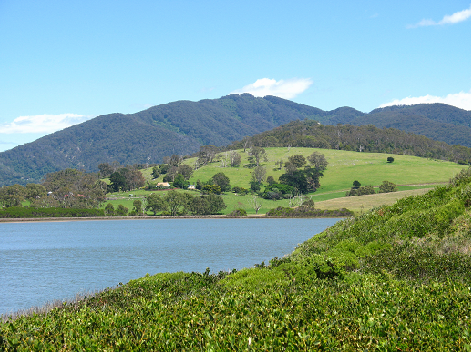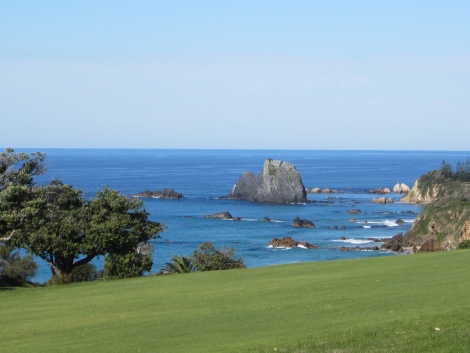 Riders who come to Cycle Indonesia through this website (Cycling Narooma) will receive a 10% discount, provided full trip payment is made 3 months before start of trip and there are at least 6 riders in the group. One discounted fee per trip. Make sure you quote Cycling Narooma in your trip registration.
Cycling Indonesia at its best!
If you are a cyclist in New South Wales, or if you intend visiting the State, or are cycle touring anywhere that will bring you into New South Wales, this concerns you. Please see our Issues page.
New! Two new exciting and challenging rides on offer through Bicycle Network Victoria. See below.
At Bicycle Network, we believe that 50% of all people who ride bikes should be women. Currently the stats tell us that only one in three bike riders are women.
This year, we took a stand to address this imbalance. We launched The Ascent, our first women's-only riding program and event through Victoria's stunning Yarra Ranges.
We know that great things take time and now, more than ever, we're passionate to see our dream of 50/50 become a reality – but we can't do it alone.
As part of our journey, we're aiming to run another women's-only bike ride through the Yarra Ranges. Held on closed roads, the fully supported event includes some of Victoria's favourite riding destinations, including the climb of the 1 in 20. When it comes to the route selection, traffic management and on-route support, all elements of The Ascent have been planned with women in mind.
But as a non-profit, for-purpose organisation charged with the responsibility of turning Australia into a nation of bike riders, it's financially irresponsible of us to run the event without more riders.
Through crowdfunding, we need to raise $195,000 or secure 2,000 event entries to cover the costs of running The Ascent ride on Sunday 23 April, 2017. Sadly, if we don't reach this target by Friday 27 January, we'll have to put the event on hold.
We need more than your verbal commitment – we need you to take a stand for all women who ride. Together, we can turn our 50/50 dream into a reality.
Buy an entry for yourself, your friends and family or donate any amount you can afford. Anyone donating will only be changed if and when our target is reached.
Pledge your support for The Ascent and the future of women's cycling today.
Visit our crowdfunding page today.


Site designed and maintained by Flairnet
Some GREAT cycling opportunities available here!
Cycling Indonesia
Indonesia is the world's largest archipelago. Its cycle touring opportunities abound on islands of Java, Sumatra, Bali, Sulawesi and the Sundas. Australian Indonesian speaking Colin Freestone and Cycle Indonesia, beginning 2009 have developed a wide range of routes on Sulawesi, Bali and Flores. These routes have been designed to take riders through the superb scenery and to take them away from tourist haunts and to provide them with cultural immersion opportunities and authentic experiences with Indonesian people.
Cycle Indonesia offers two sorts of 'trips' namely (i) the A - B journey and (ii) the hub 'n' spokes or 'bike retreats'.
For further information, please click here.